5 Reasons to do an OET Preparation Course
Considering taking an OET preparation course ahead of your OET exam? At Foyle International we offer several options for study to best prepare you to pass the Occupational English Test (OET).
A preparation course will provide you with: 
Advice on which areas of your English Language skills which need improved 
Up-to-date and unique preparation material, personalised feedback on your skills and techniques, to help you achieve your desired OET grade  
Expert guidance throughout your study journey in an English speaking environment.
At Foyle, we are an official OET Preparation Provider, and we take pride in our expert staff and high quality teaching. Here are 5 main benefits to studying an OET preparation course before taking the exam:  
1. Practise English in real workplace scenarios 
The speaking section of an OET exam is a 5 minute role-play which focuses on real healthcare scenarios. This is designed to assess how well you can use English in an everyday professional situation. 
Nothing like online courses taking an OET preparation courses gives you the opportunity to practise with your teacher and other classmates face to face, whilst also receiving valuable feedback and guidance.
2. OET preparation courses are designed for individual needs and profession
Each healthcare profession requires different skills and techniques. OET preparation courses can be tailored to your job role – helping you to achieve your goals.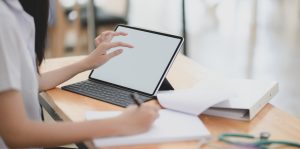 At the beginning of the course, you will complete a needs analysis and confirm your profession, so that you are prepared for the correct test papers, and that the English skills you learn will be as useful as possible for your new career in the UK or Ireland.
3. Improve your exam skills and techniques 
The OET has four sections:
Listening – Reading – Writing – Speaking
It's similar to other English exams. 
A preparation course gives you the opportunity to practise your English and work on your exam skills and techniques across all four components. Your teacher will guide you through the exam structure and show you what to best expect in each section – how much time you need, what kind of language you need to use, what you should study, and how to approach the answer in the right way. Taking an exam preparation course will give you the confidence in knowing you can do your best on exam day. 
4. OET preparation courses fit into the OET exam schedule
Whether you do a 6 month OET prep course or a 1 week intensive course, they will run in conjunction with the OET exams, which are on a Saturday. That means that when you finish your course on the Friday, you will take the exam the following morning at our exam centre
5. Flexible course options, depending on your level of English 
At Foyle, we offer two options for OET preparation: 
This course will develop your English language skills, focusing on Medical English, so that you are able to achieve OET Grade B (IELTS level 7.0), whilst also giving you the techniques required to pass the exam itself. 
The intensive course focuses on improving your language skills and techniques, equipping you with the study skills required to pass the OET exam. This is best focused for those who already have a high level of English, and really only need skills and technique preparation. 
ADDITIONAL BENEFITS
Well experienced, highly qualified teachers  
We provide homestay or self-catering accommodation  
This course is valid for 12 healthcare professionals: doctors, nurses, dentists, pharmacists, physiotherapists, speech pathologists, occupational therapists, optometrists, dietitians, Vets, podiatrists and radiographers.