Advice for Overseas Nurses who want to work in the UK
The UK has been experiencing a huge nursing staffing crisis over the past number of years. A majority of these vacancies are from the NHS but the private healthcare system is also experiencing a shortage. 
Research shows that in recent years – particularly since 2016 Brexit vote, the UK have been relying on recruitment from outside the EU to plug the gaps in nursing shortages.
So, for overseas nurses, the UK is a great career opportunity for those who wish to work as a nurse, as the demand is so large.
Facts about the UK nursing sector
There has been an 85% fall in the number of EU nurses coming to the UK since the Brexit vote in 2016 – this can also be attributed to changes in English language testing, which have now been loosened to encourage overseas recruitment
In December 2019, it was reported that the number of staff vacancies in Northern Ireland's nursing and midwifery sector has increased by 80% since early 2017.
The Department of Health's latest workforce bulletin shows that there are 7,203 vacancies across the Northern Irish health system.
In Northern Ireland, the number of nursing vacancies as of September 30th 2019 was 2,269, while there are 122 midwifery vacancies. A further 521 nurses support posts are vacant, with three support midwives wanted.
This shortage of nurses is not unique to Northern Ireland – there are shortages in nurses across all of the UK and Republic of Ireland.
I'm a nurse from outside the EU/EEA. How can I work in the UK?
All UK nurses must be registered on the Nursing and Midwifery Council registrar. They require the following qualifications for nurses from outside the EU/EEA. 
Firstly, you must be qualified to work and practice as a nurse in your home country. Specific qualifications can vary from country to country, but generally it involves being qualified to bachelor degree level in Nursing. 
Next, the following 3 qualifications are required.
A recognised English test (i.e. OET Grade B or IELTS 7.0)
Computer Based Test (CBT) 
OSCE 2 examination – a practical exam. 
I'm a qualified nurse. Where do I start with getting my additional qualifications?
OET: First, it is recommended that you achieve your OET Grade B (or IELTS 7.0 across all components.) You can do this by enrolling at an official OET exam preparation centre. At Foyle International, our English tutors are specially trained in the delivery of OET preparation courses, and in addition, we are an OET exam test centre– so nurses can prepare for your OET exam and take the test with us! 
CBT: This is a multiple choice test, and a lot more flexible – as it can be taken from anywhere in the world via computer. It can be taken before, during or after you achieve OET Grade B. However, If you require additional English language preparation, it is advised you take this test when you have improved your level of English. 
OSCE 2: Having completed the CBT and achieved OET Grade B, you can now begin preparing for your OSCE 2 practical examination. Nurses have 3 attempts within 8 months to complete this exam.
The best way to prepare for this exam, is by gaining real, hands-on work experience here in the UK. Again, this is where Foyle International can help. We provide overseas nurses with an 8 month PAID work placement here in Northern Ireland as part of our International Nursing Programme. 
FUN FACT
There are only THREE locations where you can take the OSCE 2 exam in the UK, and Ulster University in our hometown, Derry, is one of them! This is a huge benefit for nurses, meaning they can take the OET, work experience and OSCE 2 examination all in the one location!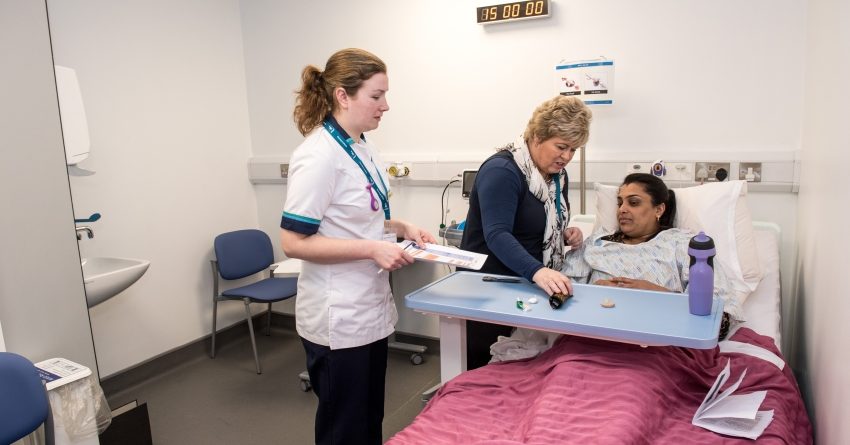 What about visas? 
For nurses who wish to study OET, and take work placement here in the UK ahead of achieving NMC registration, they will require two different UK visas. 
UK Study Visa: This is for the OET preparation course and exam part of the course. During this time nurses can not undertake any work, nor bring dependants. The course ranges from 12 weeks to 1 year depending on the nurses's level of English. 
UK Tier 2 Employment Visa:  This is issued by the employer of the paid work placement and enables nurses to bring their dependants/family members with them. 
Note: You cannot change a UK Study Visa to a UK Tier 2 Employment visa in-country, so nurses must return to their home country to apply for their Tier 2 visa. 
Our International Nursing Programme equips nurses with all 3 qualifications that they need for NMC registration, and helps them every step of the way. From achieving OET Grade B, to preparing for and arranging interviews with employers, to OSCE 2 preparation modules. 
For more information on this programme, click here. 
Photo credit: Ulster University