Study OET in the UK – 7 reasons why Derry is the best place
From our highly qualified staff, to our unique location, here are some reasons why studying with Foyle International in Derry is the best place to study OET in the UK.
1. Prepare for AND take the OET exam at Foyle International
There are several study options for overseas professionals regarding OET at Foyle International. For those who need to improve their English language, whilst developing and learning skills and techniques needed to pass the OET exam, our OET Medical English preparation courses would be perfect for you.
Depending on your level of English you would study OET Medical English for 3/6/9 months (or more), and taking the OET exam at the end of the course. The aim is to achieve OET Grade B.
For those who already have a high level of English (approx. OET Grade B/IELTS 7.0) and require exam skills and techniques to pass the OET test, our 1 week Preparation Course would be ideal.
Students can then take the actual OET test itself in Foyle International, as we are N Ireland's first and only OET test centre!
2. Foyle International have specialised in Medical English for 20 years
We pride ourselves on our highly experienced staff who are trained in delivery of OET preparation courses, ensuring any study you take here will be of the highest quality.
We first specialised in Medical English in 2000 when we had a large number of student doctors and nurses from the Middle East and India who were starting their journey in healthcare here in the UK and in Ireland.
3. Derry is a growing Medical Hub
Derry is a unique location – specifically for overseas nurses – as it is the only place in the UK where you can study for and take the OET exam, as well as prepare and take the OSCE 1 and OSCE 2 exams.
Ulster University, based in Derry, is one of three OSCE 2 examination centres across the UK.
Read more about the NMC Test of Competency examinations here.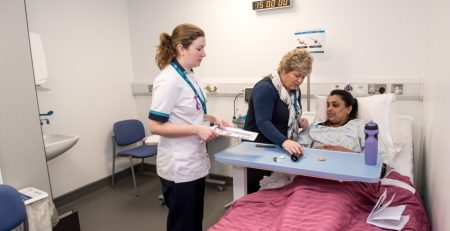 OSCE 2 exam centre at Ulster University, Magee campus in Derry
4. Nurses studying with Foyle International can visit the OSCE 2 exam centre
An advantage for those nurses studying OET in Derry is that they can actually go to see the test venue where they will be taking the practical 4 hour exam, and will also be offered a 15 hour OSCE 2 preparation course as part of the Route to Employment programme.
5. Foyle will provide work in the UK for nurses
Foyle International offers nurses who achieve OET Grade B an 8 month PAID work placement, with the opportunity to secure a 2-3 year employment in the UK at the end.
For overseas nurses who study OET with Foyle International and enrol on the Route to Employment programme, by the end of the OET preparation they will
– Be prepared for interviews for jobs in Northern Ireland
– Secured a job offer for an 8 month paid work placement
– The employer will typically reimburse the flights to home country
The nurse will then have to return to their home country to reapply for their Tier 2 visa and then return to complete their work placement in Northern Ireland.
During the 8 months they will prepare for and have 3 attempts to pass the OSCE 2 exam in Derry.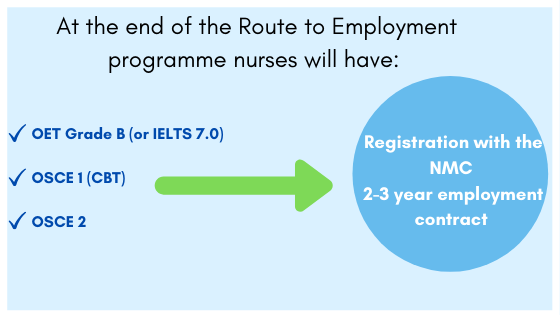 6. Derry is the most affordable UK city to live in
As the UK's number 1 most affordable city to live in (Lloyd's Bank 2019), the cost of living is significantly lower than our neighbours in England and the rest of the UK.
Studying and or working in Derry means that the cost of living is lower, with better value for your money.
Overall, Northern Irish cities are much more affordable than anywhere else in the UK.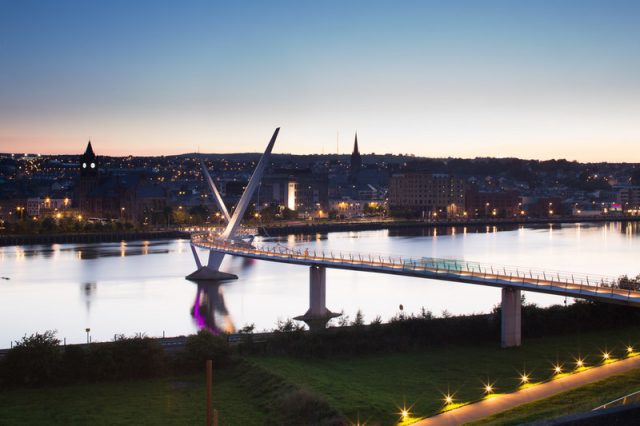 7. We have the best of British education and Irish hospitality!
A unique location – situated on the border of the UK and Republic of Ireland, means that Derry has the "best of both" – British education and healthcare combined with the culture, hospitality and stunning landscapes for which Ireland is famous!
In addition, Derry was voted one of the UK's friendliest cities, when you visit Derry you won't be surprised as to why! A small and safe city, many Derry locals are welcoming and chatty to foreign students and tourists, often keen to share more information about our historic city!
So if you would like to study OET in the UK, and kickstart your career as a healthcare professional or a nurse, Derry is the ideal place to be!
For further information on our OET courses or booking an OET exam, get in touch with aine@foyle.eu or download an application form here.